While dialing in brewing recipes for a recent coffee, it occurred to us how often we recommend the Chemex. Yet, we leave little explanation to our favouritism.
We love the Chemex for much more than its aesthetic appeal. It's a durable, efficient brewing method that produces clear and full-bodied coffee. It's like a French press, but without the grit, and without oils.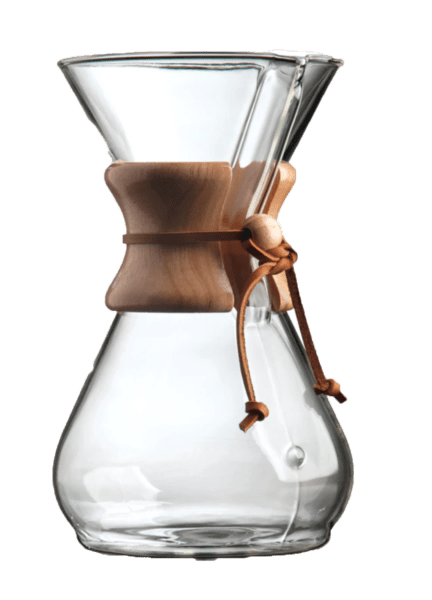 A Brief History Lesson
To understand this coffee makers' quality, let's dive into a brief history lesson. Dr. Peter Schlumbohm invented the Chemex in New York City by the inventor in 1941.
As a chemist, Schlumhohm set out to create a coffee maker that was attractive and functional. He did exactly that.
The Chemex is a one-piece hourglass shaped pour-over carafe. The design is so unique it's even on display at modern art museums like New York City's MOMA.
Today the Chemex combines non-porous tempered borosilicate glass. Completing it is a two-piece polished wood collar tied on with a cord made of rawhide.
While the collar is a beautiful rustic touch, it's also functional. Protecting the coffee maker from burning their hands while handling it.
The carafe is quite durable and easy to clean. Done by washing by hand with a bottle brush. The hourglass shape can be difficult to scrub. Remove the collar and the Chemex becomes dishwasher safe!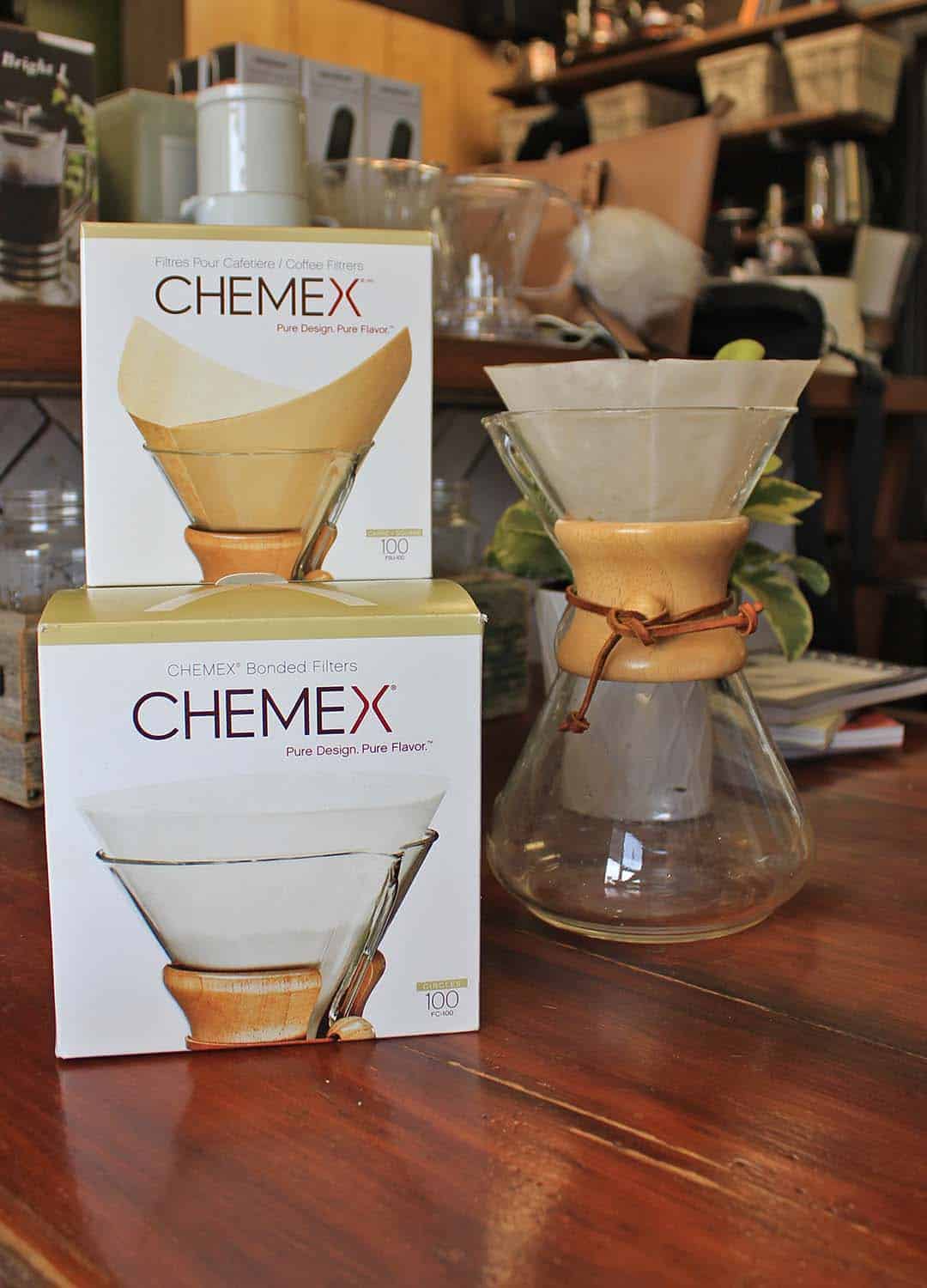 The Chemex Filter
Schlumbohms creation of the Chemex, came with creating the ideal Chemex filter. A double-bonded paper filter, which is thicker and sturdier than most paper filters.
We recommend the Chemex for those that prefer clear and well-filtered coffee. This is due to the paper filter system, as it's one that showcases the unique flavor of your beans.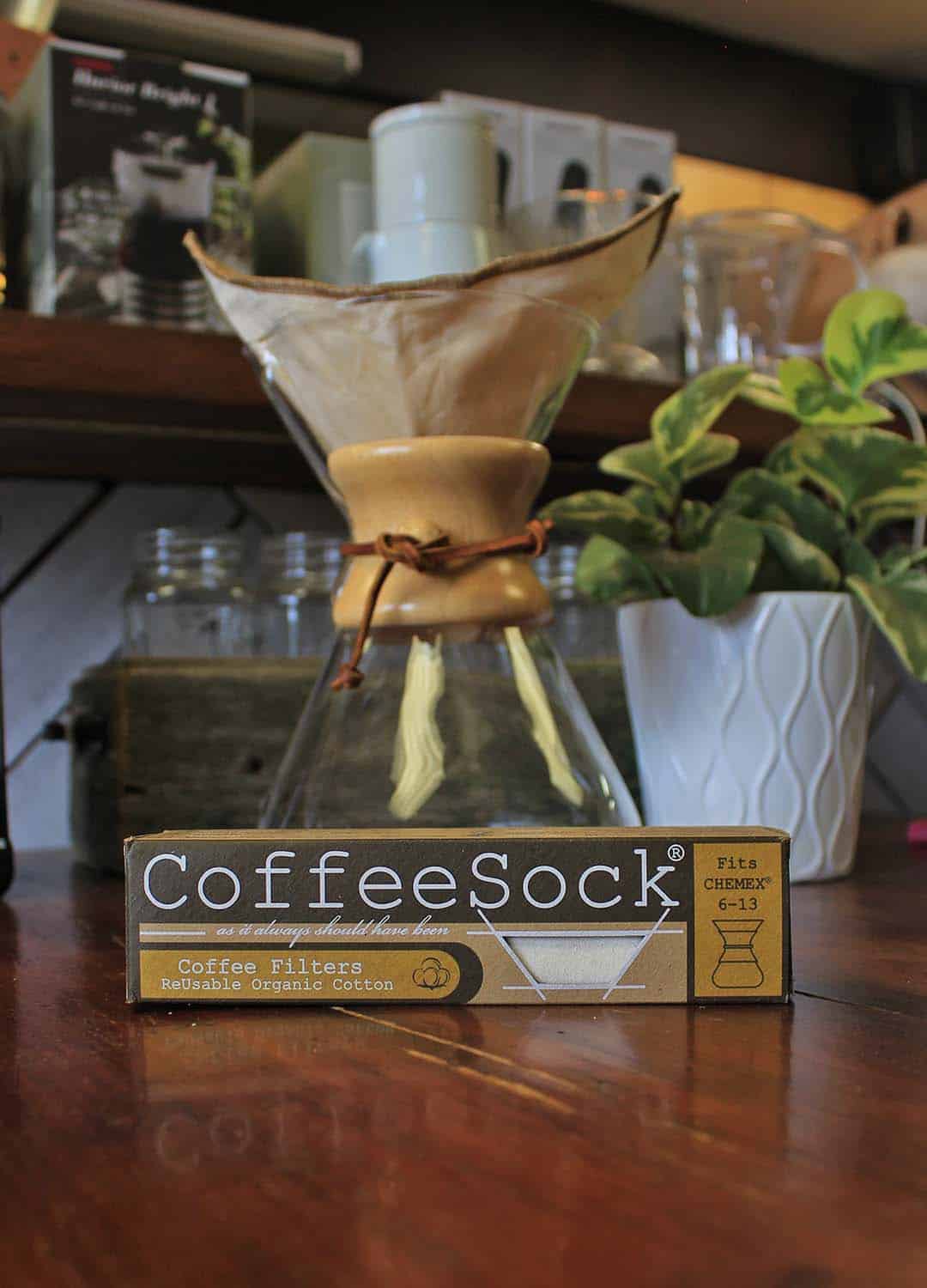 The Coffee Sock
Looking for a reusable filter alternative?

We recommend trying out the Coffee Sock. The Coffee Sock is handmade, organic, simple to use and durable.
Each pack lasts about one year and has the ability to replace 500 paper filters! It's simple, brew your coffee, rinse, hang to dry and its ready for its next use.
Interested in giving the Chemex a try? Visit us in store and check out the Chemex as well as our selection of other brewing merchandise.